We cater to all types of glass replacements, including window and door repairs, composite doors, UPVC doors, bi-folding doors, and much more!
GLASS REPAIR & REPLACEMENT IN RUGBY
At Misty To Clear, we specialise in repairing and replacing damaged glass in windows, doors and conservatories, keeping our customers' properties in Rugby secure. Whether a single pane needs replacing, or you need a whole new set of windows, we provide a fast and reliable glass repair and replacement service, at competitive prices to save you money. Contact us to get started.

If your windows are misted or showing signs of condensation, we can replace the glass so they look as good as new. Damaged windows can leave you feeling the cold, and can also make your property less secure, so it's important to have any faults fixed quickly to keep your home safe and warm. Misted windows are a common sign of a broken seal, which can lead to damp, so investing in glass repairs is the best way to enjoy a living space that is warm and dry.
WINDOW REPAIRS
Wherever possible, we will aim to carry out a window repair before we consider a replacement. We can fix many common issues, including repairing broken locks and hinges, so you can save money by keeping your existing windows. 
If your windows are beyond repair, we will provide a free quote for window replacement, which can include replacing all types of windows, including sash, skylights, tilt and turn and many more. 
We can also complete glass repairs and replacement on glazed doors, including sliding and folding doors, as well as repairing conservatory windows. With our help, your windows and doors will look as good as new – or we will recommend the best value replacement for your budget.
GET A FREE QUOTE
Contact us to find out more about the services we provide and receive a free quotation for window repairs or replacement windows for your Rugby home or business. We will be happy to advise you on the best way to restore your windows and doors to their best.
Window & Glass Replacement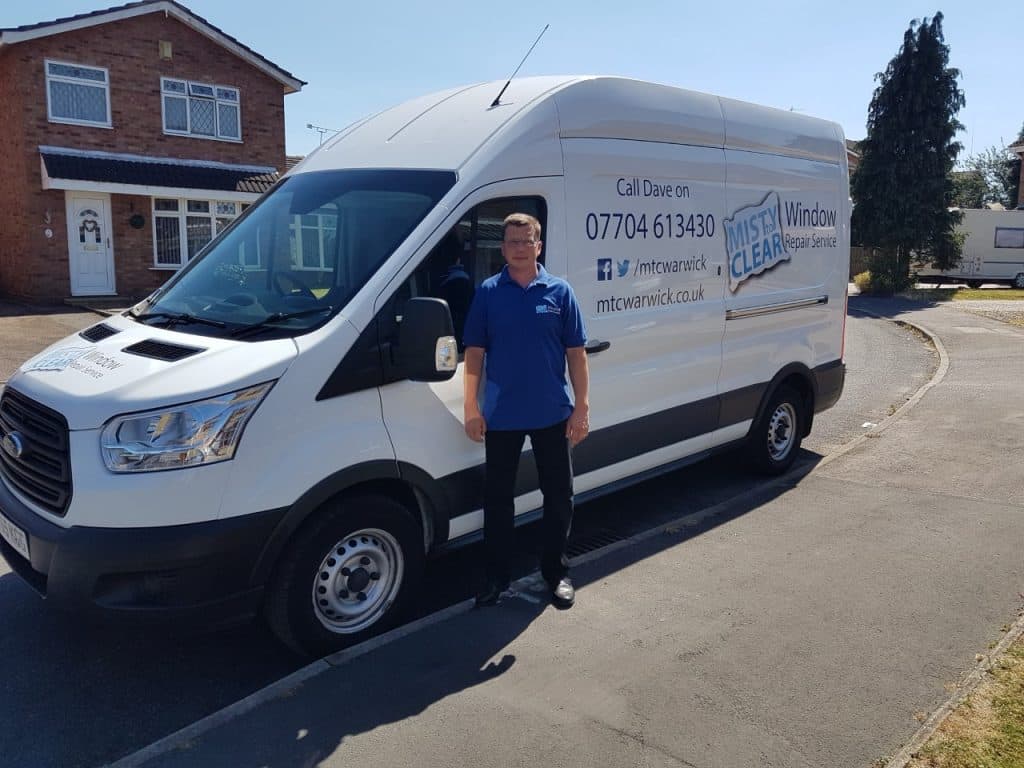 YOUR LOCAL GLASS EXPERT

Dave Millidge, the owner of Misty to Clear, has over 25 years of experience in the industry. From the beginning he was always mindful that the cost of repairs is probably the key to most people's budget, when using tradesmen to do work on their behalf, in their homes. Dave endeavours to offer a lower cost service to both old and new customers, that doesn't compromise on quality. We operate directly for the customer, with no additional hidden charges or insurance costs to you – the customer. Get in touch to find out more or click the button below.
Dave is absolutely spot on at his craft. We had him come out to repair our misted glass window and install another. He was also on time and work was done to the highest quality. He cleaned up after himself and his team we couldn't have asked for a better service.
Dave and Lee were really friendly and professional, explained what they were doing and did a grand job. Will certainly use their services again.
Polite person, tided up as well. did the work to full saticfaction, and good quote,.. all from a stone jumping up from the lawn mower and shatering the conservatory window.a good quick service. would recomend the service i got.thankyou.